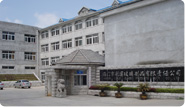 Haimen Liguo Glass Products Co., Ltd lies in the north of Haimen, which is located in the Yangtze river delta, facing shanghai, closely connected with suzhou, wuxi, changzhou, it is only 25 kilometers away from NanTong airport. Land,water and air traffic condition of the company is richly endowed by nature.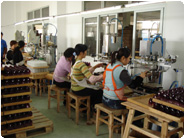 Our company is the factory manufacturing the glass bottles, plastic pumps and caps. Obtained the certificate of registry of URS, obtained imports and exports right of managing at the same time through ISO 9001.2000 international quality system authentication in 2002.
The factory of our company covers an area of 36,000 square meters. Full-automaticvial production lines with great production capacity, have several dozen multi-funct-ional machines which mould plastics is it produce for cosmetics vial perfume bottle sprayers to form a complete set specially,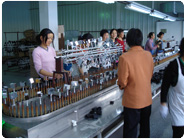 perfume bottle caps and frost of the lotion caps. Suitable for the masses of uses' selecting for use.

The scale is big, the advanced person of the equipment, the richness of technology, the variety is complete, quality is reliable, the service is thoughtful, may well be termed the counterpart's top. Price ofthe products is rational, the stalibility of quality, the novelty of the style, the current market is rare. The products had already sold to U.S.A., Russia, Japan in the past few years, India, Italy, France, each of the countries and regions, such as the United Arab Emirates, Egypt, etc., get the favors of a lot users of countries and regions.
The company has set up the perfect service network in order to facilitate the masses of users inside and outside the country (www.liguoglass.com), have set up the Ministey of Foreign Trade specially in Shanghai, in Guangzhou, Tianjin, Yiwu, and other places have set up the contact piont of residing. Await respectfully throught the year, provide service.
Company's aim: incorporate the market. flash shinily beautifully, as before, consumers first, it is happy to cooperate, mutual reciprocity and mutual beriefit.Company President and concurrently general manager. MR. Jianguo Cai wishes to be guest sincere to pay for the friend with domestic foreign businessman to found the state, create the brilliance of the cause!